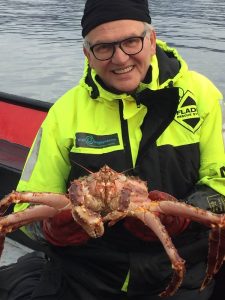 #visitbygøynes
#bugøynesbistro
#barentsauna
About us
Beds, Boats, Bistro, Sauna & Safaris
Visit Bugøynes is a small travel company run by Trond Høiberget and his family since 2015. The aim is to offer you the best of Bugøynes with genuinity and an open heart. We offer local delicacies from the Barents Sea in our acclaimed Restaurant Bistroen. We can also take you out to sea to catch the famous king crabs. The ones hoping to catch fish can rent stable and safe boats from us with an affordable rental fee. If you wish to stay the night or longer, we offer clean and comfortable accommodation in Hedvig House, which is only 50m from our restaurant. A very special experience you can try in Bugøynes is to enjoy our wood-heated Sauna and swim in the Ice Sea! In all our services quality is key.
Email
booking@visitbugoynes.no
Address
Gunnariveien 1
9935 Bugøynes
How to get to Bugøynes
Bugøynes is located in Sør-Varanger municipality in northeastern Norway. Location is by Varangerfjord, which is part of the Barents Sea and Arctic Ocean. You can easily access the village by car, and we offer transfers from Kirkenes, Brannsletta bus stop, and boat transfers from Vadsø.
By car:
From Kirkenes the drive is 102km. Drive west on the E6 road. Approximately after 85km of driving, turn right towards Bugøynes. The sign also states "Pikku-Suomi" (Little Finland). At the end of this road you will find our village.
By bus:
The Snelandia bus runs between Kirkenes and Vardø passing by the Bugøynes crossing. The bus stop is called Brannsletta and you can order a transfer from the bus stop. You can also use Snelandia´s Express service to order the transfer all the way to Bugøynes.
By air:
The closest airport is in Kirkenes (102km). From Kirkenes you can rent a car or order a pick up transfer from us. The closest airport in Finland is in Ivalo.
By ship:
Hurtigruten Ferry Line´s final port is also in Kirkenes. From Kirkenes you can rent a car or order a pick up transfer from us.
Driving from Finland:
The Finnish border is only 1h drive away. You can cross the border from Näätämö or Nuorgam.
Boat transfer from Vadsø:
Vadsø is on the other side of the fjord. By road the distance is 110km, but with our boat transfer it takes only 15-20min.
Distances:
Brannsletta bus stop 20km
Kirkenes 105km
Vadsø 106km
Vardø 108jn
Näätämö 70km
Nuorgam 96km
Inari 215km
Ivalo 255km
Saariselkä 285km
2020 Visit Bugøynes. All Rights Reserved.